Your present location:Home >> noodle machine >> pressue noodle sheet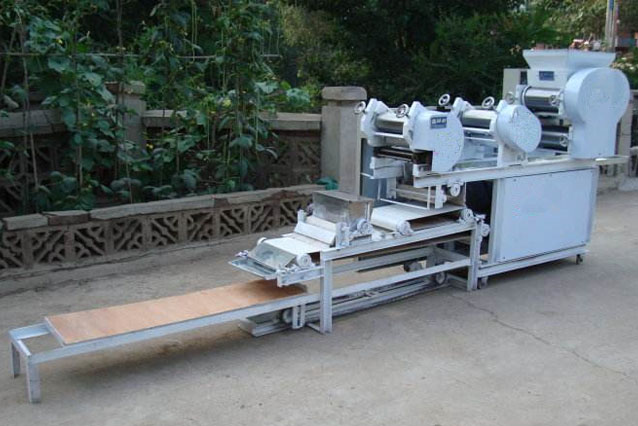 Mob: 0086-13818596142

liadingdan@163.com
Products Name:pressue noodle sheet
Products Number:850
Add Time:2018-01-30 14:21
Views:
Noodle machine Machine performance
Automatic folding of the skin, surface specification: 260mm wide, adjustable thickness.
The automatic double - face powder, the powder amount can be controlled.
The automatic roll can be used according to the actual needs of customers.
The automatic cutting ,the length of the noodles is 50cm (the length of the noodles is adjustable).
It is equipped with three frequency converter control, which enhances the operability, and the three deceleration motors are driven and the power is strong.
Optional equipment: 1. Automatic belt conveyor. 2. Automatic upper lever device. (choose one of them)
Our machine adopts SUS304 stainless steel, the body surface is smooth, no burr, no rust, easy to clean, the machine looks beautiful and graceful.
Brief introduction of noodle and dough pastry making process.
Dough mixing: first, the flour is poured into the flour mixer, then add the appropriate amount of water to stir. After the flour is finished, pour into the hopper of the machine.
Pressure surface: the first set of roller adopts twill roller forming, non-slip, non-adhesion, non-breaking, automatic transmission, with automatic compound mode. The combination can fully exert the strength of the gluten, greatly increasing the pressure and the strength of the noodles, to achieve smooth, permeability, toughness, bite strength, and the effect of cooking. In the process of delay, we adopt frequency conversion speed regulation.
Cut noodles: the noodle forming is an important part of the product. It is automatically cut off with high precision hob. It is durable and durable, with a conveyor platform, which can be used by many people.
Fold noodle sheet: as leather, take the knife from the machine, after good flour into the hopper to the machine, you can out of leather, the machine can do all kinds of leather, high yield, thin skin can reach (0.4 mm thick) with automatic double dusting, spray evenly, not powder leakage, dusting how much can be adjusted freely.
Knife:
The use of special stainless steel material, high precision, processing. Bearing assembly, no refueling, no rust, no burr, durable, usually no man-made damage, normal service life in 3 - 5 years.
Tool shape selection: square knife,round knife, Sliced noodles, speical-shaped knife (size from 0.6 - 7.2mm) cutter

Parameters:

| | | | | | | |
| --- | --- | --- | --- | --- | --- | --- |
| Model | Voltage | power | KG/H | size | roller size | weight |
| A-40 | 220V | 1.1kw | 40kg/h | 1000*400*500mm | Φ84*200mm | 120kg |
| A-60 | 220V | 1.5kw | 80kg/h | 1100*440*500mm | Φ96*220mm | 140kg |
| A-125 | 380V | 1.5kw | 140kg/h | 1200*600*730mm | Φ120*260mm | 160kg |
| A-200 | 380V | 2.2-3.0kw | 170kg/h | 1600*570*1225mm | Φ96*200mm | 380kg |
| A-250 | 380V | 3.0kw | 200kg/h | 2800*650*1500mm | Φ138*250mm | 500kg |
| A-260 | 380V | 3.0kw | 260kg/h | 2800*650*1250mm | Φ138*260mm | 650kg |
| A-300 | 380V | 4.0kw | 300kg/h | 2800*680*1350mm | Φ138*300mm | 910kg |
| A-350 | 380V | 4.0kw | 300-400kg/h | 3500*880*1400mm | Φ138*350mm | 1300kg |
| A-450 | 380V | 5.5kw | 500-550kg/h | 5200*1250*1400mm | Φ138*450mm | 3800kg |